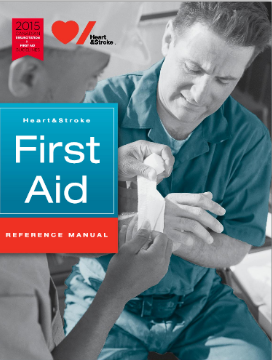 Generally, first aid is emergency care in response to an ill or injured person. The three objectives for providing first aid are to: (a) prevent more injury, (b) promote recovery, and (c) preserve life. The Standard First Aid and CPR/AED Level C or BLS training empowers the participants with the necessary skills needed to attend to emergency situations.  The overriding objective of the course is to equip the participants with the confidence, competence, awareness, knowledge, and skills to effectively confront any emergency. Knowing how to provide proper emergency care can save a life. 
Who can Take this Course?
The Standard First Aid and CPR/AED course is for everyone. It is for both healthcare and non-healthcare providers including parents. It is for anyone who wants to know how to provide the basic emergency care to an ill or injured person or persons before the arrival of paramedics.
Course Content
The course content is based on the Heart and Stroke Foundation Canada syllabus. The following topics are covered
Emergency Scene Management

Shock, Fainting and Unconsciousness

Bleeding and Wound Care

Asthma and Allergies

Head, Spinal and Pelvic Injuries

Diabetic Emergencies

Seizures

Respiratory and Cardiovascular Emergencies
Burns

Child/Infant CPR and Choking

Secondary Survey

Bone, Joint and Muscle injuries

Poisoning

Eye Injuries

Chest injuries

Environmental Illness & Injuries

Lifts and Carries

Multiple Casualty Management
Training Strategies 
Our teaching is based on the principle of multiple intelligences where different strategies are used to ensure that no class of learners is excluded or left out. Teaching techniques can easily be customized to suit the learners. The dominant teaching technique used in our classroom is discussion. PowerPoint presentation is used as well. Skill demonstration and practice are common too. Videos are used when and where necessary.